If you've had the unfortunate reality of watching someone you love battle addiction, then you know that every single day they are essentially fighting for their life. Addiction creates chaos, not just for the addict but for the entire family. It breaks relationships and tears families apart. I know firsthand the destruction addiction can cause.
My name is Jaclynn Nielsen. I am the daughter of FCLC Group president John Foster … and the sister of John Wayne Foster, Jr. My little brother was an addict. I say "was" because, at the age of 23, he relapsed, overdosed and, ultimately, lost his battle with addiction.This is our unfortunate reality.
It was July 12, 2013, the day after my birthday, when I received a phone call I think I always knew I would get, but was thankful each day when I hadn't. On the other end of the line was my dad and as soon as I heard his voice say my name, I knew. I knew this was THAT phone call. My brother had called me the day before, on my birthday, but I missed it and didn't call him back (a decision I have come to live with). Little did I know that the next time I would see him would be the very next day in a hospital bed, unresponsive on life support. Less than 24 hours later, I watched John Wayne take his last breath. I was able to hold his hand as our family surrounded his bed. To say guilt is a part of my existence is fair. And to be honest, I'm not sure that will ever go away.
Before this particular instance, my brother had been in recovery for over a year! During that time there was irrefutable happiness about him. He was back to his old self, making everyone laugh. John Wayne was the type of person that could talk to anyone. He was funny and charming with a contagious laugh. He was a dad to a two-year-old little girl, Makaylin, and he and her mom were engaged to be married. He had just been promoted to manager at the smoke shop he was working at, and he was back to surfing and living LIFE. That is the beauty of RECOVERY. Recovery gives those who struggle with addiction another chance at life. Creating a new life, a life of not using, free from the beast of addiction. It is a journey and a process, one that I am not overly familiar with from the addiction side, but I know a lot about it from watching someone close to me choose the path of recovery. I know it comes with many uphill climbs and downhill slides but I also know it is worth it!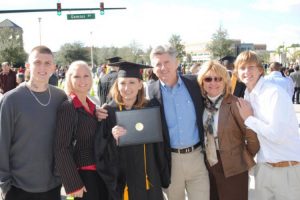 My dad was John Wayne's biggest advocate. He fought for my brother when he couldn't or didn't want to fight for himself. Steadfast in his own battle against my brother's addiction, this is a man who would walk up to the door of a crack house John Wayne was in, knock on the door and pull his son out. And this is the same man that created Mind, Body & Soul Recovery (MBS) with a group of other small-town heroes that refuse to let addiction win. My brother lost his battle and we continue to share his story, however, MBS hopes that another family won't have to know what it's like to have only a story to share. Instead, find redemption through the beauty of a life lived out, clean and free from addiction.
MBS is hosting its 5th Annual Recovery Run 5 & 10k run/walk event at Lake Baldwin Park in Orlando, Florida, on November 2, 2019. This event is to benefit the Recovery Community in Central Florida. Proceeds go to Turning Point of Central Florida, Inc., and Mind Body and Soul Recovery Foundation. COME OUT AND SUPPORT THIS AWESOME EVENT!!! Click on the link above to register or donate to this cause. Support the recovery community in Orlando, Florida … just about everyone is affected or knows of someone affected by addiction.
For anyone who has a loved one in active addiction, please remember this is not your fault and you are not alone. And if you are battling addiction, please know there is help out there for you. There is life beyond addiction that is so much more rewarding. Recovery isn't easy but IT IS a matter of life and death.
Jaclynn Nielsen is a content writer and social media specialist for Social Creative. She is also a litigation paralegal with more than 15 years experience. A native of Sanford, Florida, Jaclynn is just like her father when it comes to health and wellness. She is dedicated to a healthy lifestyle and enjoys doing CrossFit, yoga, hiking, traveling, and cooking. She also enjoys spending time with her three children, Tyler, Alia and Ryker.